Kelly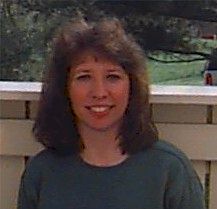 "Go for it"
I was born in Ohio in 1965 at the time of Rubella epidemic. My mother got German measles during her first trimester of pregnancy from picking up a sick boy when my mom was a secretary at the elementary school. I was born profoundly deaf with spastic cerebral palsy from both hips to toes. I walk with two crutches to support my balance. I am the oldest of four siblings in my family. I went to mainstreaming school with hearing kids until high school. I struggles many ways to survive my life to be a happy kid and be a normal child. I went to college in NY and graduated with an AAS degree in the business field in 1989. I got a good job in Maryland since 1989. I was single for a long time. Luckily, I got married to a wonderful husband and am raising two lovely young daughters.
I am very happy with what I have experienced in my life in many different ways. That is why my favorite quote is " Go for it". When there is something I really want to overcome, I have to work hard to overcome my difficulties or challenges. I always say, " Where there's a will, there always be a way to get whatever job I want done. Now I am happy to share my feelings with anyone who wants to understand how physically challenged people can live a normal life.
When people mock me, I put a big smile on my face and melt them away without feeling guilty. Coming up for next month is Myths. I am going to tell you ten interesting short stories. I believe you will enjoy reading about our experiences.